NEGOTIATING HOME INSPECTION REPAIRS
You've been searching for the perfect home for weeks (or even months) and finally you found it. The price was right, the home is in the school district that you wanted, and you can definitely picture your family living there for years to come.
The home inspection is one of the most important aspects to a real estate contract and should never be overlooked. I've said it a thousand times and will probably say it a thousand more….Whether you're buying a pre-existing home or new construction, ALWAYS get your own home inspection!
Negotiating Tip: Never talk about the plans or renovations that you have for the home to the listing agent or the seller. This could effect negotiations with the initial price and repairs.
NEGOTIATING HOME INSPECTION REPAIRS
First of all, you will rarely find a home that is absolutely perfect and in need of no repairs. I've come across 1 in 13 years, which means that the chances are good that when you go under contract on your next home, you will probably have to negotiate repairs with the seller.
DELIVER A REASONABLE OFFER
Negotiating Tip: Your offer should be based on what you have seen outside of the home inspection. The best policy is to address the issues of repairs after your inspection has been completed. Because the inspection is a contingency, you are not bound to the contract if you and the seller can't come to an agreement on repairs.
What a Home Inspector Will Look For
When you're buying a home, it's a good idea to have a professional home inspector look over the property. This home inspection checklist may help you and your inspector discover potential issues before you buy the house.
What to Look For: Exterior
When examining the exterior of a home, here are a few things to take a look at.
Chimney
Make sure the chimney is straight and whole, with no missing bricks or mortar. According to the American Society of Home Inspectors (ASHI), you should also ask your home inspector to check the tightness of the flashing, which isthe sheet metal that prevents leaking at the point where the roof and chimney meet.
Roof
You'll want the inspector to take a close look at the roof, but while you're at the property, Bob Villa recommends examining the roof from a distance to see if the roofline is straight or if it dips in the middle.
Gutters
Gutters should be clean, rust-free and attached securely to the house. Watch out for bending or sagging in the middle. Be sure to check that gutters are connected to a downspout that allows water to flow away from the house, says ASHI. Most importantly, they need to drain water into a downspout and away from the structure, according to ASHI.
House Surfaces
According to Zillow, you'll want to note if the exterior of the home, including siding and paint, is in good shape or may repairs soon. Zillow also recommends checking for any loose boards or exposed wiring.
Windows and Doors
Look for decay or rot around the frames, advises Bob Villa. Make sure there's no broken glass, that screens are not damaged and that windows and joints are sealed, caulked and insulated properly, says ASHI.
Foundation
Make sure the home looks square from all sides with no leaning or sagging. ASHI recommends making sure there are no significant cracks and that insects cannot reach wood. And Zillow further recommends ensuring there are no trees or roots near the foundation.
Property/Grounds
Ask your inspector to look for any standing water, as this can be a common red flag for drainage issues or a septic tank issue. Look for tree branches that touch the house or loom above the roof. ASHI also recommends looking for large cracks in the driveway and walkways that may need repairs.
What to Look For: Interior
As you and the inspector move to the inside of the house, it's a good idea to look at the following components.
Attic
Zillow recommends looking for signs of leaks, like decay or water stains. ASHI says you should also check for signs of pests (nests, droppings, etc.).
Bedrooms, Living Room and Dining Room
According to ASHI, all floors, walls and ceilings should be stain-free and level. Test windows and doors to make sure they open and close easily and fit in frames squarely. Paint or other wall coverings should be in good shape. All electrical outlets should be covered and working properly. Check all the light switches to make sure they work.
Bathrooms
ASHI recommends testing the water pressure in showers, sinks and toilets. It's also a good idea to check to see if fixtures and tile are attached securely and that you don't see signs of leaking or water damage. Your home inspector can help you ensure that everything's installed correctly and working properly.
Reasons Why Buyers Should Be Present During Their Home Inspections
Buyers are understandably ecstatic when a seller accepts their offer, and they're eager to move forward with the purchase. But before getting to the closing table, your buyers will have a home inspection and a home appraisal.
A home inspection isn't required, but recommended. If a buyer agrees to an inspection, they can choose a certified home inspector to conduct a thorough examination of the property and check for any problems or hidden defects with the electrical, plumbing, appliances, HVAC system, roof, foundation, etc.
This is an important stage in the buying process. Without an inspection, buyers could potentially purchase a home that needs significant repairs. But even if your buyers agree to a home inspection, they may feel it's unnecessary to be present during the inspection. This couldn't be farther from the truth.
They can ensure they're getting their money's worth
A home inspection is a non-invasive, yet thorough examination of a property. The process—which takes longer than a home appraisal—varies depending on the size of the property. Typically, these inspections take anywhere from two to four hours.
Your buyers may have secular and personal obligations, but it's important for them to be present during the home inspection so they can ensure they're getting their money's worth. Buyers pay for these inspections out of their own funds, which can cost between $300 and $500. Therefore, an inspector shouldn't rush through the process or only spend an hour inspecting a home that requires three hours to complete. By being present, buyers can shadow the inspector and check for thoroughness.
Inspectors can explain issues in-person
One benefit of being present during a home inspection is the opportunity to hear explanations directly from the inspector's mouth. After the inspection, the inspector writes a detailed report about his findings. But sometimes, these reports can make issues seem more significant than they actually are. However, if a buyer is present and talks to the inspector, the inspector can ease some of his concerns.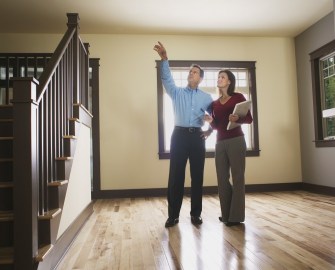 Covered Home Buying Guide – Navigating a Home Inspection
Now that you've found your dream home, it's time to get a home inspection done! A detailed home inspection will provide you with not only a list of problems or potential problems the home may have, but also a comprehensive assessment of the home's systems that can help you with future upkeep or with setting budgets for future replacements. Of course, it always feels good to understand what you're buying as well — especially when it will be your family home.
Research the Home Inspector or Home Inspection Company
It's important that you're comfortable with your chosen home inspector. The home inspection is your primary protection against buying a lemon and can be an ally who can help you understand all those gizmos and doodads that make a house work.
● Choose someone who wants you present for the inspection. If an inspector doesn't want you present for the inspection, that is a red flag, and you should place inquiries with other home inspectors.
● Ask for a sample report. This will give you an idea of the type of detail you can expect.
● Check review sites. Websites like Yelp, Google Maps, and Angie's list can be good places to get a feel for the experiences others have had with a home inspector.
● Better yet, get a recommendation. If you know someone who recently used a home inspector, ask who they used and if they were pleased. Asking for advice from your friends and neighbors on NextDoor can also be a great source for these and other recommendations.
● Verify experience, certifications, licenses, and insurance. Much of what you'll want to know will be on the home inspector's website. If not, don't be afraid to ask. You're the customer, and these are questions they should be used to answering on a regular basis.
● Understand costs before you commit. Is there an extra fee for inspecting wells, septic systems, detached buildings, or foundation issues? Even if these items are "extras' you may still choose that inspection company if you feel they are the best choice — but it's always good to know about any extra fees before the inspection.
Prices for a home inspection typically range between $200 to $500 and average just over $300. If your inspection is quoted significantly higher (or lower), ask why.
Attend the Home Inspection
Home inspections tend to be thorough, but are often glossed over by busy homebuyers. Being present for the home inspection gives context to the details on the report. Your inspector may even discuss some aspects of the home's condition while you're at the inspection, helping you to understand important report details.
A QUICK GUIDE TO HOME INSPECTIONS WHEN BUYING A HOME
A home inspector is an invaluable asset for protecting yourself and your investment. For buyers new to the area and those trying to facilitate a purchase from thousands of miles away, the idea of a home inspection can be daunting. Still, regardless of the hassle, it's 100 percent worth it.
Start by Choosing Carefully
When you're looking for an accurate assessment of the condition of the home you're interested in, taking the time to research and choose a reputable home inspector is key. It isn't that there are a lot of shady inspectors, but it is common to find that many of them have associations and connections to real estate agencies. What you really want is an unbiased opinion.
Know What They're Looking For
A reputable home inspector is going to leave no stone unturned in assessing the condition of the property. Still, it's a good idea to sit down with them and get a clear picture of all their checkpoints and bring up specific areas of concern that you might have. Along with noticing the obvious, a key role of professional home inspectors is to identify problems that could turn into bigger issues later down the road.
The Bottom Line
With all the amazing houses for sale here, there's no reason to settle for anything that's subpar. A professional will provide you with an inspections report that lets you feel comfortable and confident about your island home