How to update older homes with modern home renovations?
One of the biggest changes you can make to your home during a renovation is to add an extra room. Home additions require the help of professional designers and contractors. You can't just add a new room to your existing house without first doing a lot of researching and planning. Keep in mind that the existing electrical and plumbing systems must be considered. You will also be expected to check with zoning laws to make sure that requirements are met with your design.
Here are some of the things to consider when it comes to home additions:
First things first, decide which direction you want to go: out or up. Building out may require foundation work and related expenses. Building up may require some demolition costs. Also, what kind of room do you want to add? An extra bedroom? Extra storage? More attic space? An additional bathroom? Consider your needs carefully.
Once you've outlined a plan, talk to an architect from a company such as The Pros, and have the plans drawn up. This is also the time for you to gather any legal documents you may be need. Obtain an accurate plot plan that that shows property lines and the proximity of the proposed addition to the existing buildings.
Select the ideal materials for the project. The ideal material will be whatever matches the existing structure. If you have a wood home, have your renovator determine the exact species of wood. However, matching roofing materials may be more difficult to find. If the existing structure is showing too many signs of age anyway, you could consider having a lot of it redone.
Understand common home addition problems, such as putting stress on the foundation and floor framing problems for upper-level additions. For the first problem, it may be necessary to remove old footings and build a proper foundation. The second problem may be fixed by "sistering" additional joists onto the existing joists to provide extra support to the system prior to the subfloor being put down.
If you have an older home, have it inspected for hazardous materials or substances that may require special handling. Examples include lead paint that was used in the early '70s or dangerous fibers used in construction products from the 40s through 60s. It's best to have a professional get rid of these materials before you begin the extension.
Building a home addition may require a more extensive heating and cooling system. Options include extending the existing system, upgrading the entire system, or installing a stand-alone system that is designed to service the new room(s).
Plan your budget. There is a misconception that this type of renovation project comes with many hidden costs. However, most of the expenses are in plain sight. You can plan a realistic budget ahead of time. Some of the expenses will include contract fees, materials, finance charges/loan interest, increased premiums, higher property taxes, landscape repair, architectural fees, etc. It's still a good idea however to have some extra money just in case there are any building problems.
Tips for Preparing for a Home Remodelling Project
If you know what to expect with a home remodelling project, you'll know how to prepare properly. It's ideal to hire licensed renovators to handle the complex work. A remodelling project will likely disrupt your everyday life on some level. Proper preparation will minimize the disturbance and make the whole project easier on both you and your renovators. Even if you are feeling stressed just know that after the project is completed, the benefits will outweigh the inconveniences.
Here are some tips for preparing for home remodelling:
Do research and familiarize yourself with the tasks that are involved in the project. Even if you are hiring somebody else to do the tasks, you should still watch how-to videos. Take note of what kind of tools and supplies will be used. Read safety tips as well. When preparing for any project that requires any type of clean-up, keep a damp towel and paper towels readily available.
If you are planning remodelling a bedroom, you might need to prepare another place to sleep. For highly complex projects, consult with renovators to find out if your house will be livable, or if you and your family should find another place to stay until the project is completed.
For projects involving solvents, paints, or products that are known to produce harmful fumes, make sure the workspace has proper ventilation. Also, thoroughly clean the workplace beforehand. Take care of dusting and vacuuming so that dust and dirt won't be stirred during the task. Running an air filtering system can be helpful as well.
Prepare a safe place for pets and children. Keep them as far away from the workplace as possible, and make sure they can't wander into the area.
When it comes to kitchen remodelling, you might want to create a temporary kitchen somewhere else in the home with a mini-refrigerator, ideally near a water source. Keep the dishes in another sink or use disposable dishes and utensils. Find a place to keep the essentials, such as napkins, condiments, cloths, garbage bags, dishwater soaps, etc.
It's essential that you and the renovation team maintain an open line of communication. Everybody should be on the same page at all times in order for the project to be a success. Know what they expect of you and vice versa.
There is always the possibility of unexpected expenses. Even if you have everything planned out perfectly, there still might be some cash concerns. Increasing costs cause anxiety. You can reduce the stress involved by having extra money on hand. Have 10% – 20% more than the estimated budget.
Establish traffic areas. There will be a lot of foot traffic both out and in your home. Workers will be walking around with tools and materials. Work with the renovation team to come up with a traffic plan and protect the flooring along that area with plastic covering. Also, keep any area(s) the workers may need access to, such as the basement and bathroom, cleared of clutter.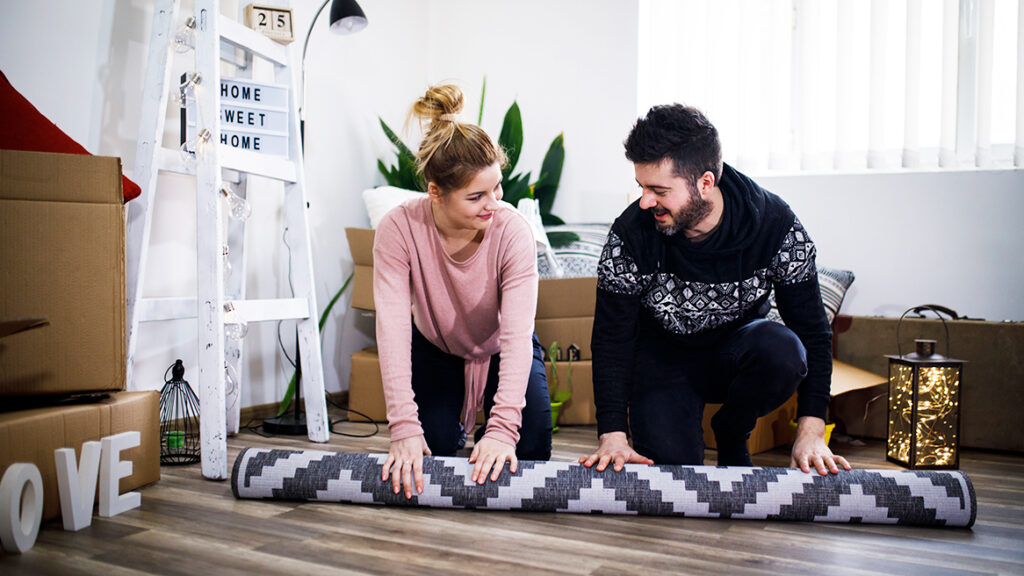 Home renovation guides
Whether you're gearing up for a DIY home renovation project or calling in the pros, here you'll find a range of expertly written guides that list out the money must dos and don'ts when renovating or looking for a renovation loan, including how to add value without overcapitalising on your property.
The best way to fund your home renovation
Relaxing on your lounge sipping a glass of red you start thinking it's about time we tear out that 1950's kitchen and renovate, building a modern, more usable kitchen. Or maybe you start daydreaming about how a fresh coat of paint will brighten your living area. Regardless of how big or small your home renovation project may be you still need to find the funds to make it happen
As we all know, nothing's for free! Good news though, there are plenty of options to finance your home renovation. The best way, will depend on your individual circumstances and financial situation. So sit back and continue to enjoy that wine while you learn about the top ways to fund your home renovation.
Use a Stash of Cash
If you've been disciplined with your savings over the years then you may be lucky enough to have a stash of cash piled up to pay for your renovations. Cash is always your best option, as you avoid paying interest and amassing more debt. However renovations aren't cheap, with a complete bathroom makeover costing up to $20,000 it's going to take years and years to save up enough dosh to turn your dream into reality. So realistically, if you have cash, it will likely cover smaller projects like a new paint job or fitting a flyscreen door.
Sign up for a Low Interest Credit Card
Given the many negative connotations with those pieces of plastic you keep in your wallet, you may not believe what you're about to read! However, we are happy to advise that a low interest credit card is an option to consider to fund any small home renovation. So we're talking about minor changes around the home and inexpensive DIY projects. These cards generally have interest rates of 14% p.a. or less with most providers offering up to 55 days interest free.
Quick weekend renos to add value to your home
You've read the weekend paper, gone for a lovely stroll and had your Sunday coffee, now you're twiddling your thumbs looking for something to do. Look no more, we've got the solution, pick up a hammer or paintbrush and get to work on a quick and easy renovation task that will add value to your home. Given there's no shortage of ideas when it comes to DIY home renos, find some time over the weekend, don't lounge around and pick up a tool and get cracking.
Replace the front door and don't forget the doorknob!
The front door to your home has a huge impact on the curb appeal of your place. It can be the first thing potential owners look at, so you want it in good shape. If it looks old and shabby it can turn people away for good. All you need are some basic tools and you can replace a worn and torn front door on a Saturday afternoon and always remember to update the handle too.
Paint the front door
If you don't have the tools or feel like you may not have the skills to replace the front door then give it a fresh lick of paint! It is the primary feature that buyers will see when they approach your place. A fresh coat of paint will add value to your home as well as leaving a lasting impression for guests and if your selling, potential buyers. When choosing a colour, go with one that compliments the colour scheme of your place. Don't select a tone that is way out there, as that can turn people off.
Paint the walls
While you've got the paintbrush out you may as well head inside. Painting the interior walls is an easy project to tackle over the weekend and is one of the simplest, most cost-effective improvements you can make to a home. If the walls are showing signs of wear and the colour is dated a lick of paint can improve the feel, cleanliness and look of a home quickly. When selecting paint colours, keep in mind that neutrals appeal to the greatest number of people, therefore making your home more desirable.
Update or add a kitchen splashback
The kitchen is a key selling point in any home so if it's looking a little tatty, why not add value to it this weekend? A great place to start is by adding or updating the splashback, the most visible feature of a kitchen. You don't need to go with an over the top, expensive kitchen revamp. Just by updating the splashback with stylish tiles you can brighten and modernise the space.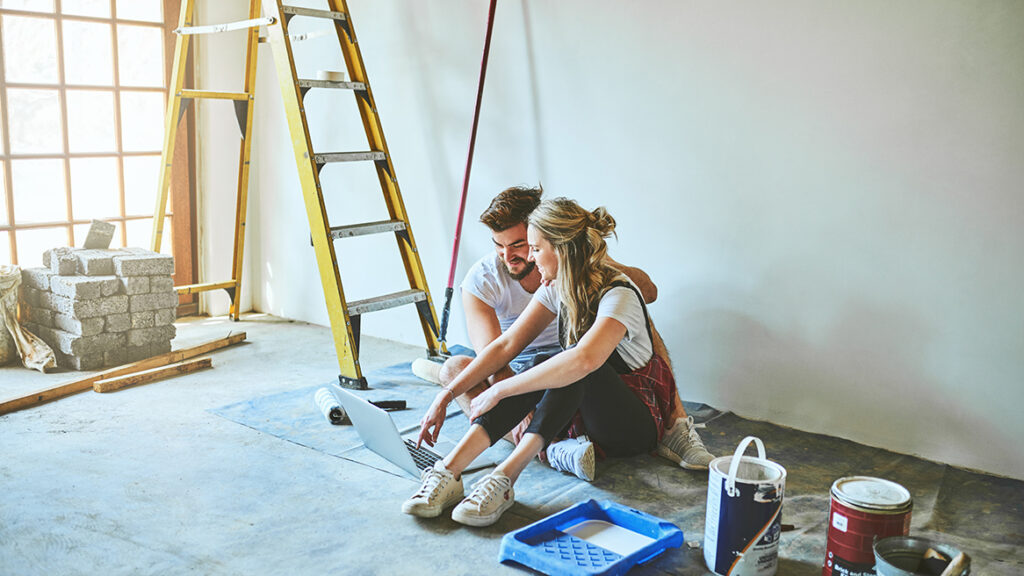 Tips to renovating without breaking the bank
Visualise your plan
Shut your eyes and visualise your renovation project. Then, if you're handy with a pencil, sketch it on a piece of paper. It may seem a little silly but this is how the pros operate. Drawing up a mind map is a great way to present your ideas to the renovation professionals. This big picture will also guide you through the renovation process, keep you on track and prevent you from spending unnecessarily. A solid plan also helps deter renovation surprises that can pop up along the way, resulting in additional costs that could break the bank.
Set a realistic budget
Before you start turning your renovation dream into reality you need to have a set dollar number in mind to work with. Better known as 'your budget'! A lot of people cringe when they hear this word but it's crucial to set a realistic renovation budget if not you'll end up breaking the bank!
When setting a budget don't forget to factor in these three neglected expenses:
Rental property – If you're undertaking a large scale renovation you may have to move out during the process, and renting a place isn't cheap.
Eating out – Knocking out a kitchen and redesigning a new, modern, chic one is a common practice but don't forget eating out adds up.
Storage – With extensive renovations you'll need to store the contents of your home in a secure place, so don't forget to factor this into your budget.
Add more $$$ to your budget
To really avoid breaking the bank build a 10% contingency into your budget to cover unexpected costs or overspending. You never know what can arise during the project so be prepared for surprises that will cost you money. For example, mould removal, asbestos removal or you may suddenly find you have to waterproof your house. Unexpected delays can also occur and consequently cost money such as; poor weather, sick tradies or a holdup in materials arriving.
Choose the best option to fund the renos
If you don't have any cash stashed away to fund the renovations you'll have to explore other options to finance the project. There is no right or wrong method to funding renovations, it's about choosing the best method to suit your individual circumstances and financial situation so you don't break the bank. Take the time to research the options out there and weigh up the pros and cons of each.