The Benefits of Using Move in and Move Out Cleaning Services
There are many exciting things about moving into a new home or apartment, but there are also a lot of things you have to do to prepare. One of the most dreaded aspects of the moving process is move out and move in cleaning
Whether you have to clean your old apartment in order to get your apartment back or you have to tidy up your new home before it's move-in ready, cleaning during your move can be stressful. The good news is that there are professionals that can help you with cleaning services for your home or apartment. If you're wondering whether these cleaning services are worth the investment
read on to learn some of the benefits of investing in professional cleaning:
Less stress: No matter how good you are at cleaning, it can be stressful when you're in the midst of a move. While you're moving, all kinds of things come up that can interrupt your schedule and take more of your time and attention away from packing and cleaning things up. Instead of trying to get all of your cleaning done in the eleventh hour, simply schedule service with a professional cleaning company, so you only have to worry about packing up your possessions and moving into your new space.
Less time out of your schedule: If you're in the process of moving, you've probably already had to take some time off of work or, at the very least, skip some of your hobbies and activities. The more time you have to spend packing and cleaning, the more time you'll have to take out of your schedule. Instead of completely disrupting your normal life, let a cleaning team take on some of the work for you.
Better chance of getting back your security deposit: If you're renting an apartment or house, you probably have a security deposit that you want to get back after moving out. Unfortunately, renters notoriously end up receiving less than their full security deposit back because of problems with cleaning. Professional cleaners specialize in move out cleaning services
which is why are proud to provide exceptional cleaning services for homeowners and renters alike. In addition to residential cleaning, are also proud to provide commercial and industrial cleaning services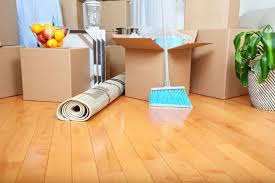 Step Apartment Move-Out Checklist
Many leases come to an end during the summer and especially at the end of the school year. A little planning in the weeks prior to your move-out can help keep you on schedule and ensure you receive as much of your deposit back as possible.
Provide written notice to your landlord of your intent to move
Hopefully, you are aware of the notice you must give your landlord prior to termination of your lease. The notification period varies depending on the lease terms and can be as much as 90-day advance notice. Check your lease. If your landlord or property manager is on site, hand-deliver it and ask them to sign a copy for you to confirm receipt. Another good option is to mail it with a return receipt requested for your records.
Book a moving company or reserve a moving truck
This is important to do ahead of time so you are not scrambling at the last minute. If you are moving during this time of year, you have to contend with the mass exodus or arrival of students moving after they graduate or just to a new home before the next school year. Having your reservation booked weeks in advance will be an immense relief. If there will be a lag between moving out of your current apartment and moving into your new apartment, reserve a storage unit to keep your belongings until you are ready for them.
Submit your change of address
Providing a couple weeks advance notice of your new address will eliminate, or at the very least lessen, any lag in service. Make sure your mail makes it to your new home by visiting your local post office, or go online, to submit a change of address. Don't wait until after the move to notify banks, credit card companies, and your landlord of your new address. You will also want to touch base with the utility companies to transfer service to your new address if it is a local move.
Pack
A few weeks before the move, begin packing non-essential items. Our Busy College Student's Guide to Smarter Moving offers timesaving tips and tricks for packing. Starting the packing process early provides time to really go through items and decide if you want them to move with you. Donate or throw away any items that are not needed or wanted. Keep the cleaning supplies out because you will need them, especially if you hope to get your deposit back.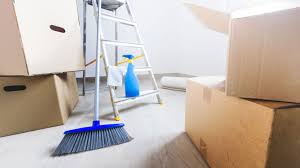 Tips For Move Out Cleaning When Selling Your Home
If you're selling your home this fall, you know there can be many details to keep straight. Between cleaning out your home, packing your stuff, and moving your belongings, your prior home also needs to be cleaned and ready for the new owners.
Remove Personal Belongings
This may seem self-explanatory, but don't be surprised when you find additional belongings lurking behind doors, in sheds, attics, overhead rafters, or hidden in your garage. If you've lived in your home for many years, stuff tends to accumulate with time. Make sure to look in hidden or inconspicuous areas and remove all of your personal items. When your belongings are removed, you can start the process of cleaning your home.
Clean Out The Garage
Garages often become the catch-all for extra stuff around your house. Remove everything from your garage (including stuff in cupboards, on the walls, or on rafters) and throw away trash. Sweep the garage clean of debris, wash windows and doors, and dispose of any toxic chemicals
Scrub Bathrooms
Deep clean your bathrooms by scrubbing the shower (including shower doors and tracks, if applicable), toilet, and sink until they shine. Dust cabinets or shelves, clean overhead lights, mop the floor, and scrub around the base and top of the toilet. Wash windows and blinds and leave the bathroom germ-free while smelling clean and fresh.
Sanitize the Kitchen
Kitchens have plenty of areas to attract dirt and germs. If your kitchen hasn't been deep cleaned in a while, this room may need extra attention. Wash down all cabinets and shelves, disinfect counters, and dust cobwebs. Scrub the sink, sweep and mop the floor, and clean the top and inside of the stove. Move the stove to sweep and mop underneath and sweep and mop the rest of the kitchen floor.
Move-in and Move-out Cleaning Service
Whether you are moving out or moving into a new residence, getting it cleaned properly is no easy task. This is especially true if you are limited on time and have strict standards that must be met if you are going to get your full deposit returned. For move out apartment cleaning or move in cleaning services
understand that your goal is to leave behind a clean apartment so that you get your deposit back. move out package includes, but is not necessarily limited to fully cleaning the counter tops, bathrooms, kitchens, floors, and dusting.
Dusting Ceiling Fans, Ledges, and Window Sills
Cleaning outside vents and Baseboards
Vacuuming Carpets
Cleaning Inside Ovens, Empty fridge and Cabinets
It should be noted that we are not a professional carpet cleaning company, so if your carpet has serious, ground-in stains, you should contact them for their services
move out apartment cleaning services do not include the following;
Wiping Bulbs, Chandeliers, and Glass Fixtures
Cleaning Up Bio-Hazards, Litter Boxes, Insects, Pests, or Animal Waste
Taking Out High Levels of Trash or Debris
Moving or Lifting Items Weighing More than 25 pounds
Cleaning High Areas Such as the Upper Parts of Windows or the Ceiling
Washing Exterior Windows or Cleaning Anything Outside the Residence
Additional Information About Move In Move Out Cleaning Services
First, you do not need to be at home when cleaning team arrives, only that have access to your residence so the cleaning can be performed. will even lock up after leave, so you can get about your business.
MOVE-IN AND MOVE-OUT CLEANING
Although moving can be an exciting transition in your life, it can also be stressful. From packing to dealing with the never-ending paperwork, there's so much to do in very little time. To make your moving seamless, you can always delegate some of the stressful tasks such as cleaning.
MOVE-OUT CLEANING SERVICES
If you're moving out, you could easily ignore cleaning the old house because you'll no longer use it. However, move-out cleaning is important if you're planning an open house or want your full security deposit from your landlord. Additionally, cleaning your current house is always a good way of starting a new chapter of your life – you can get rid of the clutter that has been making your home untidy.
MOVE-IN CLEANING SERVICES
Moving into a new house symbolizes a new beginning of your life. However, you need to thoroughly clean your new home to make it conducive for the occupants and your furniture. If you don't have the time or expertise for this, you can always count on
Kitchen
The kitchen is like the heart of a home, meaning that it should always be in tip-top condition. It can also easily spread germs and bacteria to your family
cleaning services will remove these pesky microorganisms before you settle in your new home. can help with:
General dusting
Cleaning and polishing the sink and faucets
Cleaning the exterior and interior of your appliances (fridge, microwave, oven, dishwasher, etc.)
Cleaning and disinfecting all the surfaces
Hand-washing the dishes
Vacuuming and mopping the floor
Emptying the trash
Cleaning the kitchen doors and their frames
Cleaning the cabinets
Cleaning baseboards
Cleaning your furniture and other interior décor items